Package conveyor technology
Product features mat segment curve
The conveyor technology for packages takes over the packages of the robot cell and leads them to a transfer station in the robot cell.
The side guides of the offered conveyor technology are made of galvanized steel as well as the level adjustable feet.
The modular conveyor technology is designed for a transport speed of 0,2 – 0,8 m/second and is driven by three phase asynchronus motors from SEW.
From development to production and commissioning, all departments are in our house. This ensures a tuned and thought out concept with optimal functionality.
The conveyor technology is operated via our roTeg-Control. The software developed in house is optimal adapted to the wishes of the customers and ensures smooth and coordinated processes.
Also peripherals such as pallet wrappers and labelers can be combined with the conveyor technology. By communicating with a mechandise management system the tracking of product batches is possible.
Usage
The conveyor technology is used as a mat segment for the curved transport of the packages.
It is possible to combine several segments to extend the transport route and the curved angle.
Feeding of packages into the robot cell

Execution as S-curve is possible
Possible combinations of the segments

Robust, galvanized steel construction

Integration into the central control of the robot

Combination with stoppers and automatic railing guidance possible
Application example in palletizing system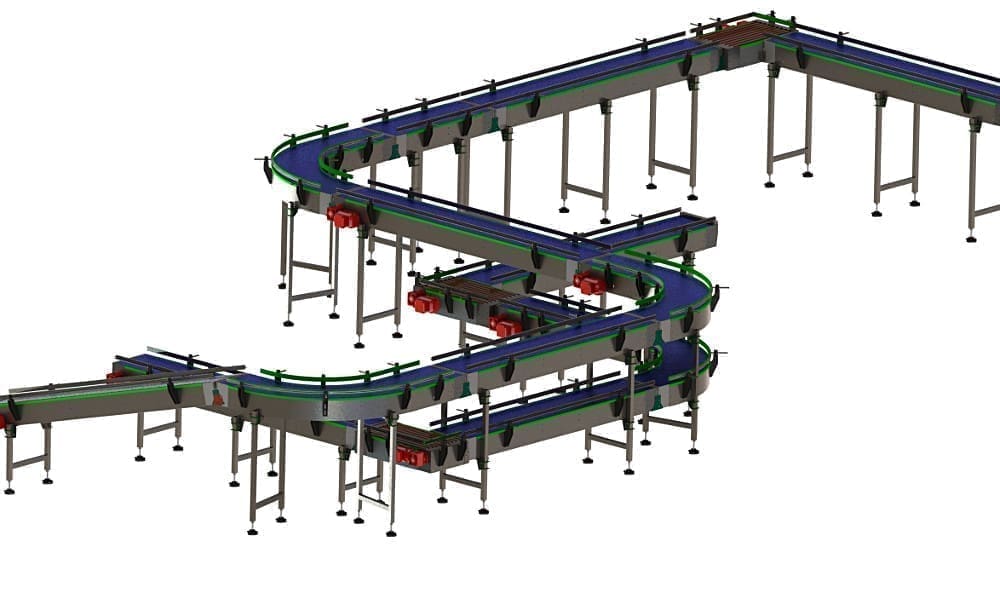 Use for production
The mat segments are used to transport the packages in a straight line.
The combination of more segments to extend the transport route is possible such as the use of a segment as an end piece in combination with a centering.